Entering combat, applying the following clauses, please let me know if you would like to include any others.
Planet Buster Clause, The MC Hammer Clause, The Video Game Healer Clause, The "Poof" Clause, 3rd Party Clause, Illusion clause.
Game mode: Standard
"All I am surrounded by is fear and dead men" - Darth Vader
__________________________________________________________
Glimmering mineral deposits surrounded the area as Legacy waded in waist-deep water into the dimly lit cave. Stalactites dripped condensation; the steamy air was soothing his lungs while he pulled himself up on a ledge. He had just woken up from a night's sleep and had taken a bath in the warm waters. His clothes hung on one of the branches of the pine trees that Legacy had cleaned and stripped of sap earlier. The cave had holes in it that had let some sun in, but it was night, and only the reflection of the moonlight off the water and steam lit the area. The ground was a mixture of rock, old pine needles and pine cones stacked on top of one another, damp forestation that was overgrown and poorly managed and lastly moss covered stones with white mushrooms growing on top of them.
As Legacy began to put on his pants the slight scent of burning flesh caught his nose, in the distance, a small cage holding two women inside of it, unconscious or dead one couldn't say for sure rested. One of them was missing a leg that had appeared chewed off; the other was missing both arms, cauterized by something unnatural or fire to stop the bleeding. The girl's leg was spinning over a nearby little blue fire, a machine powered by the water current turned the foot on a stick so that the flames could cook her meat evenly. The plan was a simple one, as Legacy had been kidnapping people from house Mutiny for some time now in the night, more specifically those who left the safety of the dam to explore outside of it. He would stalk them for days. He looked at the two girls and had initially decided that he would have to hunt again soon, the girls were starting to look hungry famished. They may die soon, and this would cause the remaining meat to go bad… something he didn't want.
He lifted the stick from the flame and performing a partial transformation he took a bite out of it, to see it was still red. Happy with a job well done he continued to eat like the animal he knew he was deep down. The blood dripped on his now messy pants; he let out a sigh not thinking before satisfying his stomach. It didn't stop him from eating though he instead endured as it was something that could be fixed later. Outside of the wind that would blow through the cave occasionally, it was completely silent. As if his presence had scared all forms of life away from the cave. Not a single creature stirred either out of fear or because he had already hunted them all. "A crime against nature" He muttered to himself as he took another bite.
It was quiet outside of the single discouraging site of cannibalism in the cave. The sound of water dripping into puddles of the water surrounding the area. It almost seemed like a light rain at the time when the wind made the cave walls sing a whistling sound.
(Begin Battle)
Hearing a footstep, Legacy dropped his meal to the sand and grabbed his weapon of choice, A Wooden saber covered in a teeth. Pulling it from a sack with several other weapons in it. Something was onto him; something followed him here maybe he was not typically to careful with hiding his tracks as only a fool would swim where the sharks rest. He was on alert twitching at the sound. "Just a water drop…. No…. much to violent to be just a drop."
His eyes peered across the landscape in front of him, the entrance to the cave to his front, the back of the cave to his back. He had suspected that potentially an intruder could be coming from above, so he looked up at the three entrances, then looked down at the one entrance in front of him. He repeated this on edge, his thoughts ranging from his former house coming to finally put him down, to another house trying to claim him for themselves.
His transformation allowed for him to search for more than just his eyes, as his snout protruded in every direction he looked. "If you aren't dinner… then I suggest you leave before I find you…" He caught the scent of something in the mist. Something new for certain, and it wouldn't be able to hide from him for long.
Marish took their time walking up to the clearing, studying it, adjusting to the little light there was. Hmm, the clearing was was fair, interesting to see inside a mine, but not unexpected due to the natural moisture and holes in the ceiling. The issue with the limited light and holes was common weaknesses in both the stone and the plants due to the trees warping to the light and water causing many rivulets through the stone. As long as nothing disturbed the integrity of any of these too much it'd be fine for some time.
Marish noticed Legacy was looking around, as he approached from behind. There was no way Marish could've made it without alerting him. "Find me?" they called out, "That would've been preferred opposed to who you did find. " Marish shifted their tongue and throat losing their ability to talk and forcing the rest of their to remain human with a bit of effort. Marish really should've practiced that a lot more.
Marish's now impressive tongue slid out of their mouth covered in a thick layer of saliva. They licked around their mouth, making sure not to miss a spot. The good thing about being mutiny's Helldiver is that Marish got plenty of practice with weapons and their skills from the laboring days. They wouldn't draw quite yet. Instead Marish beckoned Legacy towards themself.
Legacy took in a large inhale of air, and his nostrils flared open eyes rested closed as he honed in on his intruder's location through a sense of smell alone. Rather than turn around and acknowledge the ominous presence that he could indicate wasn't directly in front of him, or above him. He immediately dashed forward further into the mist where the air was more wet and damp. Somehow, this would allow his tougher more durable shark layer of skin to stay moist as he continued to search. 

The words trickled into his mind initially; He hadn't thought much of them other than confirmation that he was indeed not alone, and that whoever was with him was a threat. This, however, did something else for him as he reached into his bag and pulled out several small daggers with lines of thread that were covered in shark teeth. "Well then... you must be another brush of easy pickings." 

While concealed within the mist he slammed his head into the ground and vanished leaving a hole that was just about as wide as he was, how deep it went couldn't be determined unless one went inside but the safe assumption was thick enough to hide multiple bodies, and additionally it went in at an arch. 
Huh. Well that should've been expected. Well damn. Well nothing was going to get done if Marish was going to stand around waiting for this… thing to come towards them. Marish walked forward into the mist, shifting their ear canals. The Helldiver caught a quiet hum and followed it to a hole. Interesting. Well this was going to be annoying. To follow this thing down it's hols would lead to death. It'd still be better to stay up here Marish decided.
Marish took a moment to pause as their mouth filled with spit, staring at the hole.  It was nice, pretty smooth and even. Probably meant a lot of the weaknesses from above would carry through, as new ones wouldn't have been made. Just meant some of these big ones would be more effective. Marish spit into a crack near the top and turned to step away, clicking their teeth together.
The minute explosion widened the crack forcefully, quickly. The walls of the tunnels were cracked as they began to splinter and collapse, closing the tunnel at a rapid rate from Marish and expanded outward along the tunnel's path. The Arch created a slide for the loose rocks to come down, quickly gaining speed. Whatever wasn't blocking the way was going to hurt when it came to hit whatever was on the other side.
Legacy paid no attention to the explosions above; his tunnel may have been barricaded closed, but he wasn't coming back up that way anyway. The Arch continued until he found himself coming out of the ground, completing his cut of the land. One could see the mold of the earth falling as the entire cave's entrance was sealed off. It was blocked by a seven-foot wall of old hardened dirt and mud. The whole cave had sunk further into the earth. 
Legacy smirked and began to climb to where the holes were now spewing a blinding steamy filled mist. The heat from the inactive lava flow below had indeed been disturbed by the mass of land as things began to get hotter. The earth shook as rocks from above came falling both inside and out. Occasionally Legacy would headbutt his way through the rocks to cause less stability so that whatever was inside would be crushed by falling rocks. 
Once he made it to the top, he grinned and looked down, getting a glance of his attackers before the steam made him invisible. It hadn't mattered though as he could certainly smell him. The only way out now was to make your way to the top. That or blow your way out which apparently this intruder had a means of doing.

_________________________________________________________
Dress code, cocktails, looking so fancy
We feel like we're a little bit classy
Cheers to the fact that we're not dead
Swimmin with the sharks, but we're still not dead yet
So not only was he a murderer, he was a coward too. Marish rolled their eyes. What made it so next to no one would face anyone directly? The steam filled the place slowly in comparison to what would've been expected, probably in part due to Marish's tunnel collapsing and the fact that most of the holes led outside. The Helldiver remembered the structure from walking in, and waited for the steam to encase them before quickly using his extended tongue to fling various amounts of spit at the shadows that came towards them. Those that were expected to fall and had not yet come down had spit quickly thrown on them like a catapult from a seven-foot-long tongue. The tongue withdrew after all it's work and Marish clicked their teeth again, displacing all the danger above into an immobile wall of rock around them. With open pores and a safe zone, Marish sighed.
The Helldiver popped a few cranberries into his mouth from a pouch near his pistol and saber, thinking about where to move. Between the steam, the cave collapsing, and Marish messing with rocks the smell of sulfur began to seem through with the steam. Not enough to be toxic, but definitely enough to mask the scent until one was nearby. Marish decided to move calmly through the new debris.
The steam was still too thick to see through, which was unfortunate. No, that's not entirely true. Marish's ears could lay out a map due to the hissing escape of the steam. The Helldiver was far too used to only their human form, this was proving more useful than they imagined. Marish focused on filling his mouth once again. They couldn't help but wonder if the coward would check for a body.
Legacy grinned, "I still see you…" he swiveled his head back and forth over the steam and saw the weak electrical signals emitted by his opponents muscle movements. They were unusual movements, something he had seen before, but he had a location, and that was good enough.
After relocating his opponent, he quickly jumped away from the entrance and dashed down the outside exterior. He ran back far enough to get a running start, as now his opponent couldn't hope to know which side of the cave he would come from. With all of his effort, weapons in hand he began to run, and dive at an angle once more going into the ground below and coming out head first at his opponent. He emerged from the foundation, only making a sound once he made it through the earth.
As he came flying out in a spiral several small pouches came flinging from his bag, revolving around his body.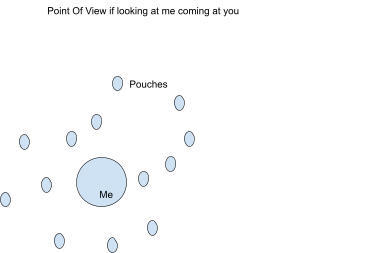 Marish needed only the brief moment of noise to alert them. The Helldiver's tongue lolled out three feet as they backstepped to start a quick and hard spin sending the saliva out towards the shark in what could only be described  as an expanding torrent of spit. Marish's feet found a large boulder to push off of as the spit expanded in front of Legacy and his pouches and Marish clicked his teeth, causing it to explode in front of the shark and deflecting the pouches away.
Marish drew their saber and pistol, cocking the latter reflexively and rushed back towards their opponent, swinging blade first aiming for where the neck should be, footsteps loud. This was going to end soon, Marish would make sure of that.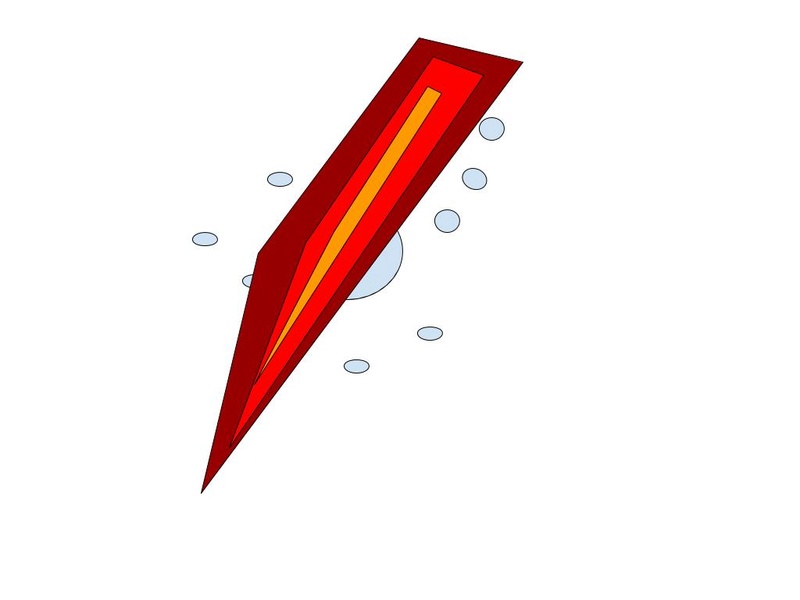 The moment Legacy's opponent turned around to face him, the pouches exploded immediately the substance inside of them was black and full of thermal power, it was blinding and the overall temperature increased. They had meant to ensure that he would not be visible. Some of the pouches however so explosive the impacts around them had caused massive concussive explosions impacting Legacy's right leg.

The explosion that was now in front of him impacted his left eye and damaged his face causing him to lose sight, and control. Had he stayed in the perfect form he would have indeed remained on target but instead Legacy crashed through the left leg of his opponent and further into the ground, disintegrating both and not stopping as he uncontrollably dug leaving a scar in the earth.

The lack of friction and the lateral movement caused him to going flying underground as his head powered the way. It was a gutsy move that cost him the match. Another angle of his impatience was getting the better of him. Had he stuck to his initial plan, he certainly would have been able to accomplish more.

Gone at things from different angles, and this certainly wouldn't be the last time he would battle the Helldiver of Mutiny. Unfortunately, the two fighters never exchanged names, and through the smoke and steam, one could say they only had two or three glimpses of one another's backside.

The cave was now on its last legs, but despite all of the damage endured it stood firm. Someone was bound to hear the explosions and investigate the smoke and find the battlefield.





_________________________________________________________
Dress code, cocktails, looking so fancy
We feel like we're a little bit classy
Cheers to the fact that we're not dead
Swimmin with the sharks, but we're still not dead yet
There are few feelings that can accurately encompass the vastness of the word pain. A man who has an ability to destroy all he passes through hitting obliterating one's leg by passing through just above the knee is a pretty accurate interpretation. A silent scream escaped the Helldiver's lips as he ended up falling over, watching his mark vanish into the earth. Damn, Cap wasn't going to be happy about that. Once the endorphins kicked in and Marish could figure out what had happened, they stripped off their shirt and used it as a mock bandage to cover the newly formed stump.
Well Marish didn't have time to stand around, well sit, and mull over what was going to happen. They needed to get back to the dam and figure out how to do their job now. Marish began to shift into their bat form, thankful that the bangade seemed to change with it and took off shakily and chaotically. They kept their stability barely and moved towards the entrance. If bat's could smile, this one did as it reflected on the battle, not because of a win or loss, but rather because of the fight itself. Maybe they'd see the cow- no, the rash young man again. Well, now it was time for the Helldiver to deal with the fact a body wasn't being brought back, the victims were probably dead, and that her high ranking official needed a very expensive new part. One step at a time.

---
Permissions in this forum:
You
cannot
reply to topics in this forum